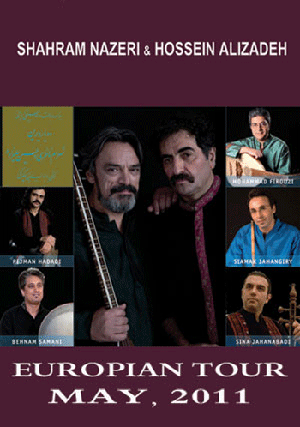 Information about Shahram Nazeri & Hossein Alizadeh´s upcoming European Tour concerts:
"A melody in times of uncertainty"
Shahram Nazeri´s European Tour 2011, Concerts Schedule  
  
تور اروپایی اساتید موسیقی ایران: شهرام ناظری و حسین علیزاده
Dates & Venues: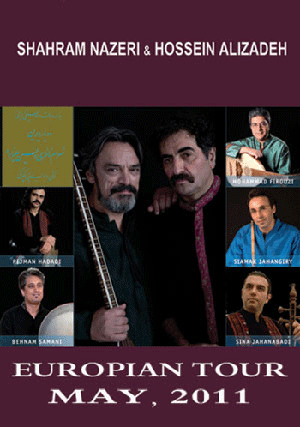 20.05.2011: Koln  
Friday at 20:00.
Kölner Philharmonie, Bischofsgartenstr. 1
50667 Köln, Germany
Info & Ticket: www.koelner-philharmonie.de   
21.05.2011: Stokholm
Saturday at 20:00
Cirkus, Djurgårdsslätten 43-45
115 21 Stockholm, Sweden
Info & Ticket: www.songkick.com
22.05.2011: Goteborg
Sunday at 19:00
Göteborg Concert Hall
Götaplatsen
412 56 Göteborg, Sweden
Info & Ticket: www.gso.se
24.05.2011: Madrid 
Tuesday at 21:00
Teatro Infanta Isabel (Infanta Isabel Theatre)
C/ Barquillo, 24
Madrid, Spain
Info: www.centropersepolis.com
Buy Tickets: Click here 
Tel: + 34 913 600 202
26.05.2011: Madrid
Thursday at 21:00
Centro Cultural Sanchinarro (Sanchinarro Cultural Center)
C/Princesa Éboli s/n esquina c/Alcalde Conde de Mayalde
Madrid, Spain
Info: www.centroculturalsanchinarro.com
Buy Tickets: Click here
Tel: + 34 913 600 202
28.05.2011: Frankfurt
Saturday at 20:00
Hessischer Rundfunk
0171-6816924 be 0171-6816924
069-155200 069-155200
29.05.2011: Zurich
Info: www.setar.c
The interpreters:
Shahram Nazeri (sing)
Hossein Alizadeh (tar, setar)
Mohammad Firoozi (barbat)
Pejman Hadaddi (tonbak)
Sina Jahan Abadi (kamancheh)
Siamak Jahangiri (ney)
Behnam Samani (daf)
Shahram Nazeri: is an undisputed icon of Persian classical and Sufi music.
Born in a Kurdish musical family, He was the first vocalist to set Rumi's poetry to Persian music thirty-five years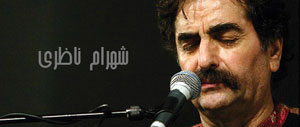 ago, thus establishing a tradition of Sufi music within both Persian classical music and Kurdish music and his music was instrumental in introducing Western musical audiences to both Sufism and to the poetry of Rumi. The New York Times has dubbed him the "Persian
Nightingale" and the Christian Science Monitor has called him "Iran's Pavarotti". Most recently he was awarded with Chevalier des Arts et Lettres medal from The government of France for his lifetime achievements in Iranian traditional music. Also Asia Society has awarded him by Lifetime Cultural Heritage Award.
UCLA has honored Shahram Nazeri with the Living Legend Award. The United Nations has honored Nazeri with arecognition award for his legendary contribution to the revival of Kurdish and Iranian Classical Music.
The Irvine City Hall Award of Distinction in Persian music was given to Shahram Nazeri for his contributions in spreading Rumi's spiritual message of peace through the language of music.
February 25, 2006 was named "SHAHRAM NAZERI DAY" in San Diego County by the Mayor and the Chairman of San Diego's Board of Supervisors.
He has performed at major venues worldwide, including The Festival of Aix-en-Provence, The festival of Avignon, Theâtre de la Ville in Paris, The Tokyo Summer festival, The Kodak Theatre (Oscar ceremony) inLos Angeles, and the Royal Albert Hall, the Festa delPopolo in Italy, The Beiteddine Festival in Lebanon,the Kölner Philharmonie in Germany, Asia Society,World Music Instituted and Brooklyn Academy of Music BAM in New York, the Roma Europa Festival in Rome, Sao Paolo Music Festival in Brazil and Fes Festival ofWorld Sacred Music in Morocco and many others. From early on, Master Nazeri began to sing and compose music to the works of Mawlana Jalal ad-Din Rumi,Iran's most cherished Sufi poet. Nazeri was also pioneering in assimilating contemporary Persian poetry into the classical repertoire.
Hossein Alizadeh: Many consider Alizadeh as one of the most important figures in contemporary Persian music. He has taught at the University of Tehran and the Tehran Music Conservatory. He has written and published a number of etudes for tar and has recorded the entire body of the Radif based on the interpretation of Mirza Abdullah.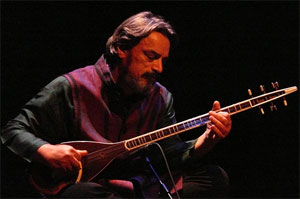 Alizadeh has performed extensively throughout the United States, Europe, and Asia and has appeared on many radio and television programs, including Radio France, RIAS in Berlin, WDR in Cologne, the BBC, KCRW in Los Angeles, and KPFA in Berkeley. Some of Alizadeh's most noted compositions are, The Nava Improvisations (1976), Riders of the Plains of Hope (1977), Hesar (1977), Revolt (1983) for harp, string orchestra, and percussion, NeyNava (1983), Dream (1986) for harp and flute, Torkaman (1986), Raz-O-Niaz (1986), and Song of Compassion (1991).
Other musicians: