The International Orchestra Rumi Ensemble and Mohamad Motamedi will be on European Tour since 01 st of November 2013, performing concerts in cities like Oslo, Amesterdam, Koln, Madrid, Wien and Munich.

Interpreters:
Javid Afsari Rad (Iran; Compositor, Santur)
Mohamad Motamedi  (Iran; singer)
Behnam Samani (Iran; Tombak, Daf, Kuzeh)
Sara Övinge (Sweden; Viola)
Sina Jahanabadi (Iran; Kamancheh)
Masa Zivkovic (Serbia, Viola)
Tove Margrethe Eriksta (Norway; Chelo)
Reza Samani (Iran; Tombak, Daf)
Tour dates & places:
01 November: Oslo, World Music Festival at Jackob Kirke, KULTURKIRKEN JAKOB   info:  www.osloworld.no
16 November: Munich: Sophiensaal info: www.finanzamt.bayern.de
Javid Afsari Rad (compositor, Santur)
Javid Afsari Rad was born in Isfahan, central Iran, in 1965.  His mentor on the santur, a traditional Persian i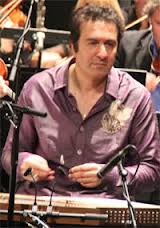 nstrument, was Saeed Naeemi Manesh.  Later he was introduced to Radif, the Persian classical music repertoire, by the masters Parviz Meshkatian and Faramarz Payvar.  His studies led him to Norway, where he graduated from the University of Oslo in the field of Musicology.  As a musician and composer, Javid is highly inspired by the mysticism in Rumi's poetry.  Rhythm is a vital element which reflects the ecstatic philosophy of the sensually divine thirteenth century poet Rumi, and Javid's compositions are an endeavor to honor and communicate the great vitality and energy seeping out of Rumi's mysterious poetry.  As a composer, Javid Afsari Rad received the Norwegian KORK award in 2007 for his commissioned work with the Norwegian Radio Orchestra. The prize is awarded to an established artist who is viewed as an innovative and essential contributor to orchestral and musical life.  Together with the ney, percussion, oud, string quintet, and vocals, Javid creates masterful performances with his fellow artists, ranging from soft heartfelt moments to the exhilarating joyful state of musical enchantment pivotal to the Sufi's dance.
"The experience with composer and musician Javid Afsari Rad was one of the greatest ever for us…with dancing rhythms and quarter tones, the orchestra felt transported to Iran and found itself among the ornaments and exaltation of love in the Sufi's poetry." – the Norwegian Radio Orchestra
Behnam Samani (
Tombak, Daf, Kuzeh)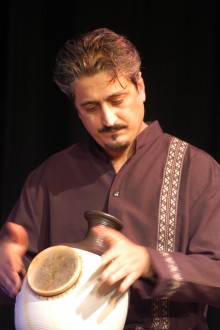 Behnam Samani was born 1967 in Chahar Mahai, Bakhtiari in Iran. He started studying tonbak at the age of 13 with D. Mohebi who was situated in Isfahan. He has been performing around Europe since 1987.He has collaborated with some of the most celebrated Iranian musicians including F. Paewar, M. Zarief and R. Badie. He has worked with international artists such as Hariprasad Chaurasia, D. Schneider and H. Mischke on several acting and musical projects. Behnam has performed with Karavane and leads Ensemble Samani. 2001 he toured the USA, Britain, Brazil and Canada with Dastan Ensemble. He has performed at some distinguished festivals including the Music Festival 2001 in Sao Paulo, Persian Music Festival in Munich, Sweden and Italy, Rhythm Stick Festival in London and Rhythm Festival Zurich.Over the past years he played in prestegious concert halls such as Haus der Kulturen der Welt in Berlin, Gastgeig in Munich and Rasa in Utrecht. He has performed for the SWF and WDR Radio Stations in Germany and has numerous recordings and television appearances. He currently resides in Cologne, Germany.
Sara Övinge (Violin)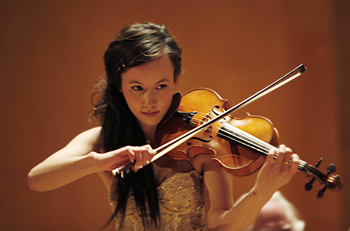 Violinist Sara Övinge, born in 1988 in the Swedish city Norrköping, is considered one of Scandinavia's most talented young musicians of today. She started taking violin lessons at the age of four and made her first appearance as soloist with Norrköping Symphony Orchestra at six. In the autumn of 2010 she embarked on her Artist Diploma in Performance at the Royal College of Music in London.
Sara Övinge has appeared as soloist in various European countries and has received numerous grants, awards and prizes. She has considerable experience as soloist with orchestras such as the Nordic Youth Symphony Orchestra, Royal Norwegian Navy's Band, Bergen Philharmonic Orchestra, the Norwegian Radio Orchestra and Gothenburg Symphony Orchestra.
Tove Margrethe Erikstad (Chelo)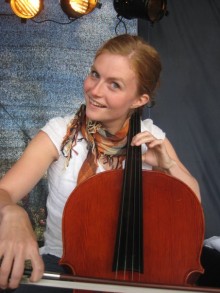 Tove Margrethe Erikstad is a Norwegian freelance cellist based in Oslo. She has studied under supervision of  Prof. Truls Mørk and graduated from Norwegian Music academy in 2009.
She has collaborated with well known orchestras such as the Norwegian Radio Orchestra, Bergen Philharmonic Orchestra and the Norwegian Opera.
She is also a member of the Telemark Chamber Orchestra, and has performed with divers contemporary ensembles in Norway.
She also works as a pedagog at Bærum Kulturskole in Norway.
Masa Zivkovic (Viola)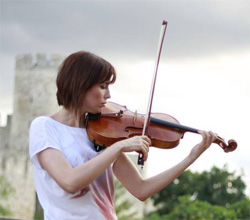 Masa Zivkovic,born in 1981 in Belgrade, Yugoslavia, actually lives in Oslo. She has finished her Master studiesin solo viola in Norwegian Music academy in 2009.
She has collaborated with well known orchestras such as the Norwegian Radio Orchestra, Oslo Philharmon
ic Orchestra, Oslo Baroque Orchestra, Norwegian Chamber Orchestra, Belgrade Philharmonic Orchestra , Kristiansand Symphony Orchestra, Nordnorsk Symphony Orchestra.
She has won the 3rd prize in 1999 in Italy, Pietra Ligure, international competition for all instruments and the 2nd prize in 1999 in International competition for strings.
Sina Jahanabadi (Kamancheh)
Born in 1975, Tehran, Sina Jahanabadi is graduated from Secondary Music School and University of Art of Tehran. He
studied Kamancheh with the masters such as Davoud Ganjey, Aliakbar Shekarch, Kamran Darougheh, Ardeshir Kamkar. He has cooperatedwith Ava, Shahnaz, Mowlavi, Bahar, Vaziri ensembles and renowned vocalists such as MohammadReza Shajarian, Shahram Nazeri, Hengameh Akhavan, Iraj Bastami, and Homayoun Shajarian. He participated in recording and performing numerous albums with the named musicians, along with the Mastan Ensemble and Parvaz e Homay in international festivals.
Born in 1977 in Chahar Mahal, Bakhtiari, Iran, Reza Samani began studying the tombak with his brother Behnam Samani at the age of eight and later became a student of D. Samani.  By the age of twelve he picked up the sorna and later the neyanban and the daf.  In 1999 he traveled to Germany to collaborate on a project with the Ensemble Samani, thus beginning his professional career and residency in Germany, where he has pursued the study of music and world percussion.  Reza has performed concerts and participated in numerous festivals throughout Europe with the Zarbang Ensemble and the Ensemble Samani.  He teaches tombak and daf in Cologne, along with workshops throughout Germany.
Mohammad Motamedi (singer)
Mohammad Motamedi, born on Sept. 24, 1978 has started learning singing & also playing Ney as self-taught since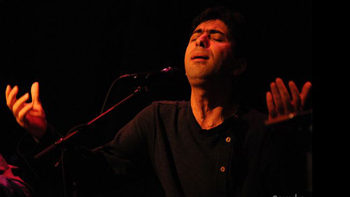 adolescence. Since 1997, he stated learning singing style of Seyed Hossein Taherzadeh by esteemed artist Hamidreza Noorbakhsh. Due to his interesting in Esfahan song school, he consequently has practiced & made into a role model from songs of masters such as Taj Esfahani & Adib Khansari and has benefitted from guidance of esteemed masters such as the late Dr. Hossein Omoumi & Aliasghar Shahzeidi" in this regard. He has activity in several groups (bands) so far, from which can indicate to Khorshid Ensembl – Sun Ensembl – (Majid Derakhshani), Hamnavazan-e Sheida – Sheyda Ensembl – (Mohammadreza Lotfi), Iranian National Orchestra (Farhad Fakhreddini), Hamnavazan-e Mehr – Mehr Symphony – (founded by himself, Mohammad Motamedi). He has executed several concerts in Iran & the World so far
Sponsored event by:  
Specialist in organizing cultural tours to Iran