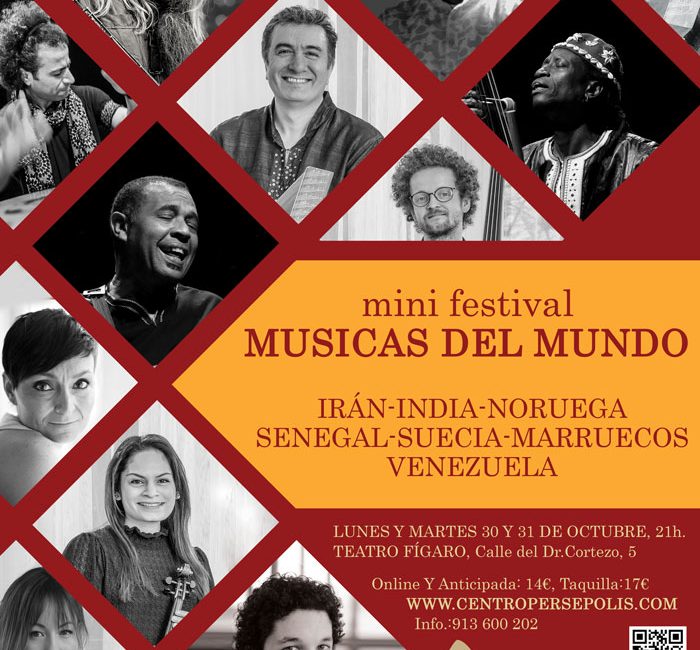 mini festival ¨MUSICAS DEL MUNDO¨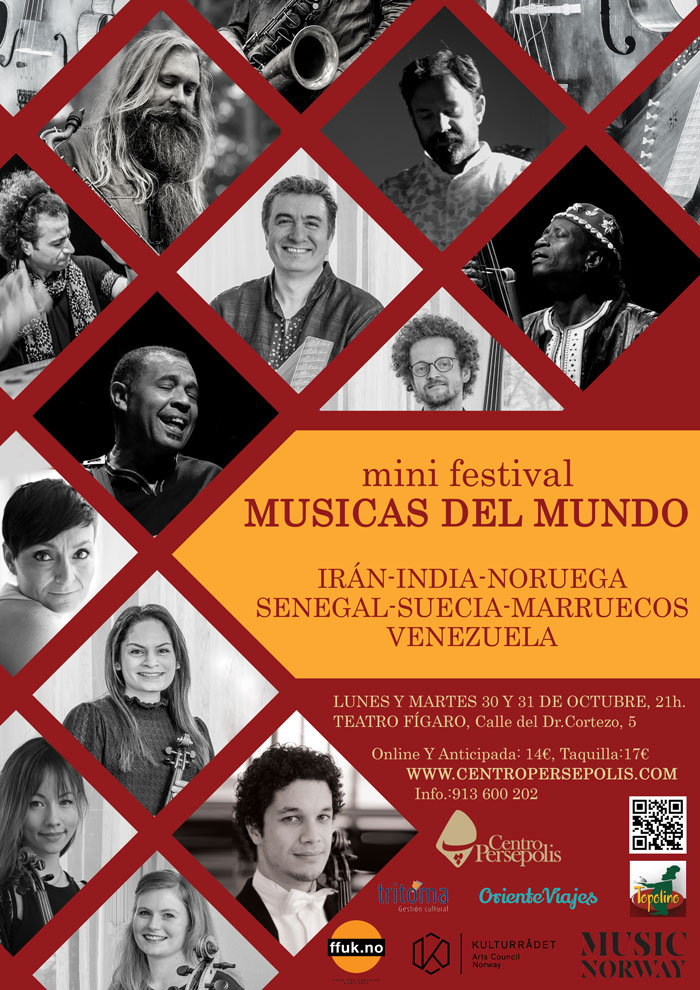 LUNES Y MARTES 30 Y 31 DE OCTUBRE, 21h.
Norwegian World Orchestra

(NOWOR)
Javid Afsari Rad (Iran/Norway) -Music director, composer
Trygve Seim (Norway) -Saxophone
Unni Løvlid -(Norway)- Vokal
Harpreet Bansal (India/Norway) -Violin
Sara Övinge (Sweden) -Violin
Andrés Maurette
O'Brien(Venezuela)-

Viola
Tove Margrethe Erikstad (Norway) -Cello
Adrian Fiskum Myhr – (Norway) -Contrabass
Aissa Tobi (Marocco/Norway) -Sintir, Rabab
Solo Cissokho (Senegal/Norway) – Kora
Jai Shankar – (India/Norway) -Tabla
Habib Meftah – (Iran) – Percussion
Terje Wessel Øverland (Norway) -Sound
Javid Afsari Rad – Musician, Composer and Musical Director
Originally from Esfahan, Iran, resident in Norway is a first-rate performer on the persian instrument of Santur. He creates music that takes you to hidden depths yet at the same time compels you moutwards to the very edge. It has connotations of both the Sufi tradition and western classical music in its alteration between the tranquil and meditative and the seductive and ecstatic.
Javid Afsari Rad (1965) has participated in, as well as directed, many international musical collaboration projects and he has made a career both as composer and Santur player. As a musician and composer Javid is highly inspired by the work of Rumi: A legendary Sufi mystic and poet of the thirteenth century Persia. The compositions of Javid honours and conveys the great vital energy that seeps out of Rumi´s enchanting poetry.
In 2007 he received the KORK award for his commissioned work with the Norwegian Radio Orchestra(KORK). The price is granted innovative and outstanding contributors to orchestra music.
The jury justified their choice by making the following statement: "The collaboration with composer and musician Javid Afsari Rad was one of the  strongest experiences of the year for KORK…with dancing rhythms and quarter tones, the orchestra felt transported to Iran, and found itself among Persian ornaments and Sufi poetical praises of love".
His latest project: Norwegian World Orchestra is a summery of his former musical collaborations with some of the most distinguished world musicians of Norway and a brilliant Norwegian String quartet.
This project is commissioned by Arts Council of Norway and presented for the first time by ICOLD in Stavanger Concert Hall.
Trygve Seim
Born in Oslo, Norway, April 25th 1971.
Since 1992 working full time as a musician, composer and arranger.
Educated a jazz musician (saxophone) at the jazz conservatory in Trondheim.
Studied saxophone with John Pål Inderberg, Bob Rockwell, Rune Nicolaysen and Tore Engstrøm, and composition with Terje Bjørklund, Bertil Palmar Johansen, Edward Vesala and Bjørn Kruse.
Released 22 records on the prestigious german record label ECM, whereas 7 of them as a composer and band leader or co-band-leader.
In 2001 his debut album won the german records critics prize "Jahrespreis – Presi der Deuchten Schallplattenkritik".
 Unni Løvlid – vocal
Unni Løvlid, the voice of the west-coast of Norway, is a versatile musician, and in the top category of folk musicians. Unni has an exceptional voice and an original way of re-creating the music of her cultural heritage into new artistic forms, crossing traditional languages with other musical languages .
Harpreet Bansal -Violin
Harpreet Bansal, born in Oslo (1980), was from childhoodtrained in western and Indian classical music. Teacher in the Indian tradition was her father, Harbhajan S. Bansal.
In 1999 she entered the Norwegian Academy of Music (NAM). After graduating (2003), Harpreetbecame a student of the prominent citar player Ustad Ashraf Sharif Khan Poonchwalasand received periodic supervision from Dr. L. Subramaniam, today´s premier Indian violinist. In 2007 she started her Master's Degree in Performance and Research at NAM.
Andrés Maurette O´Brien -Viola
Andrés Maurette O´Brien is a Venezuelan violist and conductor born in Caracas, Venezuela in 1993. He was raised in the successful musical program "El Sistema", where he acted as the principal viola of the "Youth Orchestra of Caracas" as well as study conducting with Maestro Jose Antonio Abreu.
In 2014 he moved to Norway and began his bachelor studies with Soon Mi Chung at the Barratt Due Musikkinstitutt. In 2016 he was given a one-year contract with the Oslo Philharmonic, and he has also played with the Norwegian Chamber Orchestra.
Andres plays on a viola made by Michael Stürzenhofecker, kindly lent to him by Dextra Musica.
Tove Margrethe Erikstad– Cello
Tove Margrethe Erikstad (1983). is a Norwegian freelance cellist, based in Oslo. She has studied under supervision of Prof.Truls Mørk, and graduated from Norwegian Music Academy in 2009. Tove has collaborated with several contemporary ensembles as well as known orchestras such as; the Norwegian Radio Orchestra, Bergen Philharmonic Orchestra and the Norwegian Opera Orchestra.
Adrian Myhr- Contrabass
Adrian Myhr is a bassplayer from Trondheim, currently living in Oslo. He's a contributor in a host of projects, including Oker, ComboNations, Bansal Band, Dr. Kay & his Interstellar Tone Scientists, Torg, Simiskina, Humdinger, DaMaNa a.o. He also explores the sound possibilities of his instrument as a solo performer. Adrian Myhr has a master degree in improvisation from the Norwegian Music Academy in Oslo. He handles a lot of different genres in music, and plays everything from world music, jazz, free-improvised music to pop.
Violinist Sara Övinge – Violin
Violinist Sara Övinge, born in 1988 in the Swedish city Norrköping, is considered one of Scandinavia's most talented young musicians of today. She started taking violin lessons at the age of four and made her first appearance as soloist with Norrköping Symphony Orchestra at six. In the autumn of 2010 she embarked on her Artist Diploma in Performance at the Royal College of Music in London.
Sara Övinge has appeared as soloist in various European countries and has received numerous grants, awards and prizes. She has considerable experience as soloist with orchestras such as the Nordic Youth Symphony Orchestra, Royal Norwegian Navy's Band, Bergen Philharmonic Orchestra, the Norwegian Radio Orchestra and Gothenburg Symphony Orchestra.
Aissa Tobi
Aissa Tobi is from northern Morocco. During childhood he learned to play traditional music from his grandfather. The music they played was called Gnawa. Gnawa isa music form that has existed for a very long time and is a result of the meeting between Islamic Sufi , West African traditions and music of the Berbers. Gnawa is also known as trance music and has been used in healing rituals in North Africa.  Aissa Tobi has been based in Norway since 1988 and he is touring extensively for Concert institute of Norway, in addition to performing with his own band ,  Tassili, playing a mix of traditionaland western music.
Jai Shankar- Tabla
Jai Shankar , born in Punjab in India in 1980, was trained from childhood, by his father and his uncle, playing the tabla. His family moved to Norway in 1981, and after a few years Jai became the youngest musicianever touring with Concert institute of Norway in 1988.
He has collaborated with jazz musicians such as Bendik Hofseth , Jon Balke, Ingebrigt Håker Flaten and Stian Carstensen.  Jai is also the winner of  "Talentiaden" a contest for the most talented musicians in Norway in 1997. He also was awarded by "TONO" Norway's performing rights organization in 2003. Jai is now working and performing both in India and Norway.
Solo Cissokho
The BBC World Music Award winning Senegalese kora master Solo Cissokho has found a musical home in Norway, and established a base from which he travels extensively in order to expand and explore the sonic possibilities of his long-necked African harp.He's received the BBC World Music Awards, been nominated to the Nordic Council's Music Prize, released hailed albums, played with Youssou N'Dour and Ali Farka Touré and toured relentlessly in Norway and abroad. Oslo-based Solo Cissokho has come a long way since he was introduced to the 21 – string harp, and built his first kora at the age of seven. Cissokho maintains a strong and vivid tradition as a griot, a scald that transmits his people's history, comments on various aspects of his community and accompanies key social events.
Habib Meftah Boushehri
Habib Meftah Boushehri was born in the city Boushehr on the shores of the Persian Gulf and currently resides in Paris.At the age of 10 he had already started playing traditional flutes and percussion instruments.
In 1998 Habib entered a 16 years long collaboration with the Shanbezadeh ensemble, and together they were invited to play at several international festivals.
In 2001 he was invited to play with the French dance company Montalvo-Hervieu, touring the world yet again.
He debuted as a solo artist in 2005 with the album Deyzangeroo, later to be followed by his second album Solouk (Helheleh), a duo with oudist Shahram Gholami.
Always looking for new inspiration, he moved to Iran to work with many different Iranian fusion artists such as Manushan, Peter Soleimanipour and Darkoob.
Back in Paris, he started playing with the renowned musicians such as Niaz, Azarin Trio, Qasideh, Impure Dance Company, Rumi Ensemble, Trio Joubran, Adnan Joubran and Titi Robin.