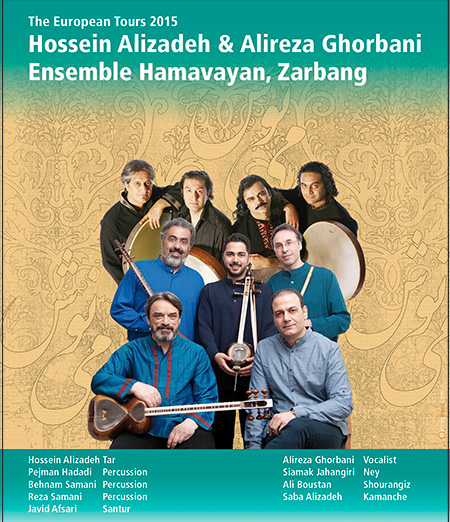 Comprar entradas: En Taquilla de Teatro Infanta Isabel
Hossein Alizadeh, el maestro  más relevante de Música iraní encabezará un grupo de renombrados músicos persas para brindarnos un singular concierto en el Teatro Infanta Isabel de Madrid, el próximos día 10 de noviembre.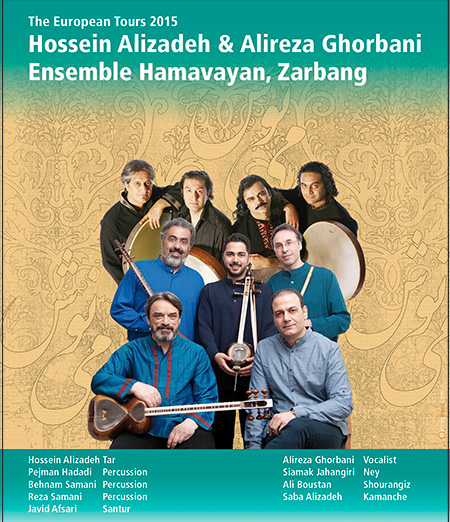 Alireza Ghorbani, el cantante de la Orquesta Nacional de Irán, el Zarbang Ensmeble y el Grupo Hamavayan acompañan al Maestro en el marco de una gira europea con actuaciones en varias ciudades del viejo continente.
Entre otros podemos mencionr a Javid Afsri Rad el Director del Rumi Ensemble o bien al renombrado precusionista Pejman Haddai.
Los hermanos Samani con sus variadas percusiones, Siamak Jahangari el interprete de Ney, Ali Boustan (Shuranguis) y Saba Alizadeh (Kamancheh) son otros componentes de los artistas que actuarán en el concierto.
El concierto está basado en la música y el canto de música tradicional persa con obras de Alizadeh y continuas improvisaciones.
Los Intérpretes:
Hossein Alizadeh (Compositor, Tar)
Javid Afsari Rad (Santur)
Pejman Hadadi (Percussion)
Behnam Samani (Tombak, Daf)
Siamak Jahangiri (Ney)
Ali Boustan (Shourangiz)
Reza Samani (Tombak, Daf)
Saba Alizadeh (Kamancheh)
Y el ilustre cantante de la Orquesta Nacional de Irán: Alireza Ghorbani
Hossein Alizadeh
Compositor, investigador, profesor, instrumentista e improvisador musical, figura entre los nombres importantes de la música clásica persa. Hay quien dice que Alizadeh es uno de los maestros más importantes de la música contemporánea del Oriente Medio. Descrito por All Music Guide como uno de los principales compositores clásicos y músicos iranís ha dado recitales en los Estados Unidos de América y aparecido en muchos programas europeos de radio y televisión, principalmente en Francia.
Nació en 1951 en Teherán. Se graduó en el conservatorio de música en 1975 y entró en la escuela de bellas artes en la Universidad de Teherán , donde estudió composición y música persa. Continuó su educación en la Universidad de Berlín en la composición y musicología.
Estudió con varios maestros de la música tradicional persa como Houshang Zarif , Ali Akbar Shahnazi , Ali Nur Borumand , Mahmoud Karimi , Davami Abdollah , Forutan Yusef , y Hormozi Sa'id . A partir de estos maestros se enteró de la radif de la música clásica persa. Después fue director y solista de la Orquesta Nacional de la Radiotelevisión Iraní. Fundó a continuación el Aref Ensemble y colaboró con el Sheyda Ensemble, conjuntos dedicados a la promoción y la investigación de la música clásica persa. Su primera experiencia en Europa como intérprete profesional fue el trabajo en la Orquesta del Ballet de Maurice Béjart durante las representaciones de Gulistán, un ballet de asunto persa escrito por el famoso coreógrafo. Ha dado recitales en los Estados Unidos de América y aparecido en muchos programas europeos de radio y televisión, principalmente en Francia, Alemania y Reino Unido.
Ha sido nominado para el Premio Grammy 2007, junto con el músico armenio, Djivan Gasparyan , por su álbum de colaboración, The Endless Vision. En 2008, fue votado como "el músico más destacado de Irán del año".
Alireza Ghorbani
El reconocido cantante tradicional iraní se afirma como uno de los mejores intérpretes de la nueva generación del canto persa.  Él ha sido el vocalista de la Orquesta Nacional de Irán desde 1999 y ha participado en muchos festivales importantes en todo el mundo, junto con otros músicos de música persa.
Ensemble Zarbang
Fue fundado en Alemania en 1996 por los prestigiosos percusionistas iraníes, Behnam Samani, Morteza Ayan y Siavash Yazdanifar con el doble objetivo de presentar instrumentos de percusión iraní a audiencias internacionales y combinarlos con los instrumentos de percusión y melódicos de otras culturas. Empezando en 2001, una nueva alineación de músicos le ha dado a Zarbang una vitalidad renovada, creando innovaciones en su sonido.
La fortaleza de Zarbang parte de su habilidad para crear un nuevo sonido mezclando distintos instrumentos mientras que se mantiene fiel a la esencia y origen de cada instrumento. Su nuevo sonido conlleva el uso de vocalización, melodía y varios efectos en el contexto de la percusión. El repertorio de Zarbang de piezas compuestas en improvisaciones estructuradas es dinámico, meditativo e interno, por una parte, y extasiado y de inducción al trance por otra, éste último alimentándose de ritmos sufíes e iraníes antiguos, donde el daf cumple una función decisiva en la inducción de los estados de trance.
Zarbang ha interpretado y grabado en Radio WDR y Radio Bayern en Alemania y Radio Belga en Bruselas. El grupo también ha interpretado en varios festivales importantes incluyendo el Festival de Música Persa celebrado en Múnich, Grand Performances en Los Ángeles, Festival de Música Vorde en Oslo, el Rhythm Sticks Festival en el Royal Festival Hall de Londres, y numerosos actuaciones en distintos países europeos (Madrid, Colonia, Estocolmo, Barcelona,…), EEUU y Canadá.
Grupo Hamavayan
Dirigido por el virtuoso maestro Hossein Aliziadeh,  está compuesto por  intérpretes de música tradicional persa. Los repertorios del ensemble están basados en la música tradicional e igual que otras obras de Alizadeh, ofrecen nuevas interpretaciones de esta música milenaria.
……….
"

Hossein Alizadeh & Alireza Ghorbani

" arrive  Madrid with Zarbang Ensemble and Hamavayan Group to act in the Infanta Isabel Theatre, on Tuesday at 21.00, November 10 as part of The European Tours 2015
For anticipated tickets:
call:  +34 913 600 202 or buy online:
Balcony: here
Hossein Alizadeh: Many consider Alizadeh as one of the most important figures in contemporary Persian music. He has taught at the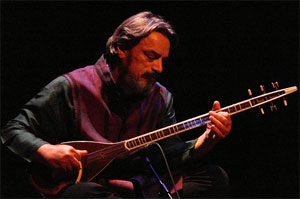 University of Tehran and the Tehran Music Conservatory. He has written and published a number of etudes for tar and has recorded the entire body of the Radif based on the interpretation of Mirza Abdullah.
Alizadeh has performed extensively throughout the United States, Europe, and Asia and has appeared on many radio and television programs, including Radio France, RIAS in Berlin, WDR in Cologne, the BBC, KCRW in Los Angeles, and KPFA in Berkeley. Some of Alizadeh's most noted compositions are, The Nava Improvisations (1976), Riders of the Plains of Hope (1977), Hesar (1977), Revolt (1983) for harp, string orchestra, and percussion, NeyNava (1983), Dream (1986) for harp and flute, Torkaman (1986), Raz-O-Niaz (1986), and Song of Compassion (1991).
Zarbang Ensemble has performed and recorded at WDR Radio and Bayern Radio in Germany and on Belgian Radio in Brussels. The ensemble has also performed at a number of major festivals including the Vorde Music Festival in Norway, Persian Music Festival in Munich, Grand Performances in Los Angeles,  the Rhythm Stick Festival at the Royal Festival Hall in London, LACMA Museum in Los Angeles, Carnegie Hall in New York , Hong Kong Silk Road Festival and the Abu Dhabi Sounds of Arabia 2010.
Alireza Ghorbani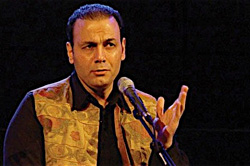 The renowned Iranian traditional Singer has already taken part in many important Festivals all over the world together with many musicians and some of these festivals and programs are available in the market on CDs. He has been the vocalist of Iran´s National Orchestra since 1999 and has joined many concerts and festivals within Iran and abroad .Enthusiasm, the first album of National Iranian orchestra, has also been composed by Farhad Fakhreddini. Although he collaborated in making soundtracks for many different TV programs such as Kife Englisi, Shabe Dahom, Roshantar az Khamooshi (Mollasadra) and Madare Sefr Darajeh. His latest albums are Az Kheshto Khak,Fasle Baran, Rosvaye Zamaneh, Sarve Ravan, Symphony of Molana, Soogvarane Khamoosh, Rooy Dar Aftab 1,2, Eshtiagh, Ghafe Eshgh, Khoshnevise Seda and Sarmasti(Khayyam) .
Pejman Hadadi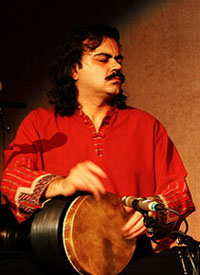 World-renowned, Pejman Hadadi is considered one of the most innovative Iranian percussionists. He was born in Tehran, Iran on February 19, 1969. At the age of 10 he began studying Tombak, the central drum in traditional Persian music with MasterTombak player, Assadollah Hejazi for 2 years and owes the foundation of his training to this Master's precise teaching. He continued his training for a brief time with Master Tombak player, Bahman Rajabi who exposed him to an entirely different approach of playing the instrument. Pejman tirelessly followed the various styles of famous Tombak players and was captivated by such great Masters as Hossein Tehrani, Nasser Farhangfar and Morteza Ayan who influenced him greatly through their recordings. After some time, he felt drawn to the other main percussive instrument in the tradition, namely the sacred frame drum known as the Daf. Alongside his long hours of Tombak practice, he taught himself how to play the Daf, finding great inspiration from the great Master Daf player, Bijan Kamkar through his recordings.
Pejman immigrated to the US in 1989 and began his professional career in 1991. After collaborating with a few different music ensembles Oshagh and Nava, he began performing with Master musician and composer, Hossein Alizadeh in serval concerts in the US which led him to pursue music with more diligence. In 1995, he joined Dastan Ensemble, the highly celebrated and "most-forward looking Persian music ensemble" (LA Weekly). Pejman has recorded countless critically acclaimed pioneering works with Dastan and continues to perform with the ensemble in some of the world's most noted concert halls.
Javid Afsari Rad (compositor, Santur)
Javid Afsari Rad was born in Isfahan, central Iran, in 1965.  His mentor on the santur, a traditional Persian instrument, was Saeed Naeemi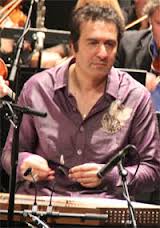 Manesh.  Later he was introduced to Radif, the Persian classical music repertoire, by the masters Parviz Meshkatian and Faramarz Payvar.  His studies led him to Norway, where he graduated from the University of Oslo in the field of Musicology.  As a musician and composer, Javid is highly inspired by the mysticism in Rumi's poetry.  Rhythm is a vital element which reflects the ecstatic philosophy of the sensually divine thirteenth century poet Rumi, and Javid's compositions are an endeavor to honor and communicate the great vitality and energy seeping out of Rumi's mysterious poetry.  As a composer, Javid Afsari Rad received the Norwegian KORK award in 2007 for his commissioned work with the Norwegian Radio Orchestra. The prize is awarded to an established artist who is viewed as an innovative and essential contributor to orchestral and musical life.  Together with the ney, percussion, oud, string quintet, and vocals, Javid creates masterful performances with his fellow artists, ranging from soft heartfelt moments to the exhilarating joyful state of musical enchantment pivotal to the Sufi's dance.
"The experience with composer and musician Javid Afsari Rad was one of the greatest ever for us…with dancing rhythms and quarter tones, the orchestra felt transported to Iran and found itself among the ornaments and exaltation of love in the Sufi's poetry." – the Norwegian Radio Orchestra
Behnam Samani (Tombak, Daf, Kuzeh)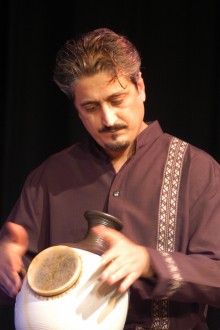 Behnam Samani was born 1967 in Chahar Mahai, Bakhtiari in Iran. He started studying tonbak at the age of 13 with D. Mohebi who was situated in Isfahan. He has been performing around Europe since 1987.He has collaborated with some of the most celebrated Iranian musicians including F. Paewar, M. Zarief and R. Badie. He has worked with international artists such as Hariprasad Chaurasia, D. Schneider and H. Mischke on several acting and musical projects. Behnam has performed with Karavane and leads Ensemble Samani. 2001 he toured the USA, Britain, Brazil and Canada with Dastan Ensemble. He has performed at some distinguished festivals including the Music Festival 2001 in Sao Paulo, Persian Music Festival in Munich, Sweden and Italy, Rhythm Stick Festival in London and Rhythm Festival Zurich.Over the past years he played in prestegious concert halls such as Haus der Kulturen der Welt in Berlin, Gastgeig in Munich and Rasa in Utrecht. He has performed for the SWF and WDR Radio Stations in Germany and has numerous recordings and television appearances. He currently resides in Cologne, Germany.
Ali Boustan (Setar, Shurangiz)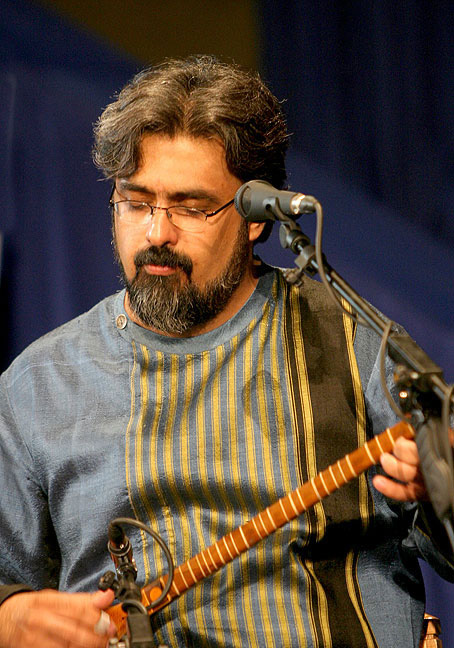 Born in Tehran (1969), Ali Boustan is both a musician and a graphic artist by profession. He received his basic trainings on the Setar, starting at age of 14, from Mohammad Firouzi, Parviz Meshkatian and Mohammad Reza Lotfi. Later he also enjoyed the apprenticeship of late Master Ahmad Ebadi whose guidance established Ali's approach to persian music. In 1987 he sought Hossein Alizadeh in order to complete his advanced training and to study the Radif and improvisation. Since then, he has worked closely with Hossein Alizadeh as a graphic designer as well as a performer on recordings and in concerts. Boustan has performed with the Hamavayan Ensemble and the Nour Ensemble in numerous concerts and festivals in Iran and abroad. He also appeared on numerous albums, soundtracks and music recordings such as A Time for Drunken Horses (2000), Turtles can Fly (2004), Endless Vision [Nominated for the Best World Music Album of the Year 2006 in the 49th Edition of the Grammy Awards] (2004), Nive Mang (2006), Under the Razor (2007), Ode to Flowers (2007), Song of Sparrows (2008), If Like Birds and Angels I Could Fly (2010), Badeh Toei (2014) and …
Born in 1977 in Chahar Mahal, Bakhtiari, Iran, Reza Samani began studying the tombak with his brother Behnam Samani at the age of eight and later became a student of D. Samani.  By the age of twelve he picked up the sorna and later the neyanban and the daf.  In 1999 he traveled to Germany to collaborate on a project with the Ensemble Samani, thus beginning his professional career and residency in Germany, where he has pursued the study of music and world percussion.  Reza has performed concerts and participated in numerous festivals throughout Europe with the Zarbang Ensemble and the Ensemble Samani.  He teaches tombak and daf in Cologne, along with workshops throughout Germany.
Sponsored event by:  
Specialist in organizing cultural tours to Iran