Versión original, subtitulada en castellano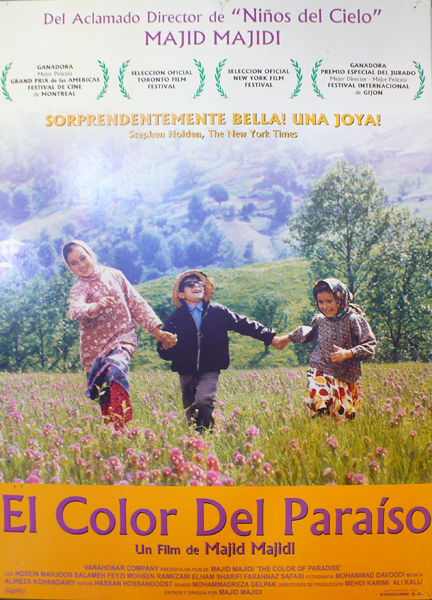 TÍTULO ORIGINAL  Rang-e khoda
AÑO 1999
DURACIÓN 88 min.
DIRECTOR Majid Majidi
GUIÓN Majid Majidi
MÚSICA Alireza Kohandairy
FOTOGRAFÍA  Mohammad Davoodi
REPARTO Hossein Mahjoub, Salime Feizi, Mohsen Ramezani, Farahnaz Safari, Elham Sharifi, Behzad Rafi
PRODUCTORA Varahonar Company
PREMIOS 2002: Festival de Cannes: Nominada a la Palma de Oro (mejor película)
GÉNERO Drama
SINOPSIS Mohammad es un niño ciego iraní de ocho años. Tras acabar su curso escolar en Teherán, regresa al pueblo con su padre para reencontrarse con su abuela y sus dos hermanas.
Evento patrocinado por:  
Especialista en viajes a Irán
******
"The Color of Paradise" an Iranian film made by Majid Majidi will be screened in the Persépolis Cultural Center in Madrid on October 25th, at 20:30.  
Original version with Spanish Subtitles.
It is an open event and anyone is welcome to attend. Please arrive early as seating is on a first-come, first-served basis and is limited to the Center capacity. Admission is not guaranteed.
Summary: The story of an active 8 year-old blind boy who shows how he senses the world without sight. The film also follows the progress of the father-son relationship after the death of the mother.
Sponsored event by:  
Specialist in Iran Tours & Travels